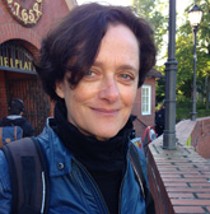 People
Christine von Oertzen
Principal Investigator (Since 2005)
Prof. Dr.

I have published widely on gender relations in society and science. In my recent work, I have extended my interest in gender and science to the material culture of collecting, processing, and visualizing data. Epistemologies and practices of data compilation in bureaucratic and domestic settings inform my current research theme Data, Media, Mind. The project Media of Truthfulness traces the emergence of data driven methods in nineteenth-century census taking and population statistics. Citizen Science of the Mind explores at-home observation, note-taking, and data compilation on the minds of infants in the context of fin-de-siècle efforts to unlock humanity's evolutionary roots.
As a Senior Research Scholar and Research Group Leader in Department II (Daston), I co-organized four Working Groups, resulting in the following co-edited publications:
My first monograph, entitled The Pleasure of a Surplus Income: Part-time Work and Gender Politics in West Germany (published 1999/2007) explored gender politics and social change in West Germany. The focus of my second book, Science, Gender, and Internationalism: Women's Academic Networks, 1917–1955 (2012/2014), was the creation and maintenance of female academic networks in western Europe and North America from the late-nineteenth to the mid-twentieth century. A project website provides an online biographical database of the many actors figuring in the book.
I earned my PhD at the Free University of Berlin in 1998. Subsequently, I taught at the Center for Interdisciplinary Research on Women and Gender at the Technical University in Berlin. From 2002 to 2005, I was a Research Fellow at the German Historical Institute in Washington, DC. In 2009, I joined the History Department at the Technical University Braunschweig as a Privatdozentin. Since April 2020, I am Associated Professor in the Media Studies Department at Humboldt University Berlin.
I am a member of the editorial boards of the journals WerkstattGeschichte (since 2001), NTM (since 2018), and ISIS (since 2019). As a member of the History of Science Society I have served as program co-chair for the annual international HSS meetings in Utrecht (2019) and New Orleans (2020).
No current projects were found for this scholar.
Selected Publications
Felten, Sebastian, and Christine von Oertzen (2020). "Bureaucracy as Knowledge." Journal for the History of Knowledge 1 (1): 1–16. https://doi.org/10.5334/jhk.18.

Read More
Felten, Sebastian, and Christine von Oertzen, eds. (2020). Histories of Bureaucratic Knowledge. Special issue, Journal for the History of Knowledge. 1 (1). London: Ubiquity Press. https://journalhistoryknowledge.org/collections/special/histories-of…

Read More
Oertzen, Christine von (2020). "Madness in Numbers. Review of: Porter, Theodore M.: Genetics in the Madhouse: The Unknown History of Human Heredity. Princeton: Princeton University Press 2018." Inference 5 (3). 5 (3): 1–3. https://inference-review…

Read More
Oertzen, Christine von (2020). "Prussian Census Box: Moving and Freezing Data." In Boxes: A Field Guide, ed. S. Bauer, M. Schlünder, and M. Rentetzi, 473–480. Manchester: Mattering Press.

Read More
Oertzen, Christine von (2007). The pleasure of a surplus income : part-time work, gender politics, and social change in West Germany, 1955-1969. New York [u.a.].

Read More
Oertzen, Christine von (1999). Teilzeitarbeit und die Lust am Zuverdienen. Geschlechterpolitik und gesellschaftlicher Wandel in der Bundesrepublik, 1948-1969. Göttingen: Vandenhoeck und Ruprecht.

Read More
Oertzen, Christine von (2007). "Völkerverständigung durch akademische Vernetzung : die International Federation of University Women 1919-1945." In Politische Netzwerkerinnen : internationale Zusammenarbeit von Frauen 1830-1960, ed. E. Schöck-Quinteros, A. Schüler, A. Wilmers, and K. Wolff, 333–356. Berlin: Trafo.

Read More
Presentations, Talks, & Teaching Activities
Archives & Collecting
Digital Humanities
Gender