Berlin Center for the History of Knowledge
The Berlin Center for the History of Knowledge is a joint initiative of the MPIWG and the Freie Universität Berlin (FU), the Humboldt-Universität zu Berlin (HU), and the Technische Universität Berlin (TU). As a forum for new research endeavors and as a platform for public discussion, the Berlin Center will increase the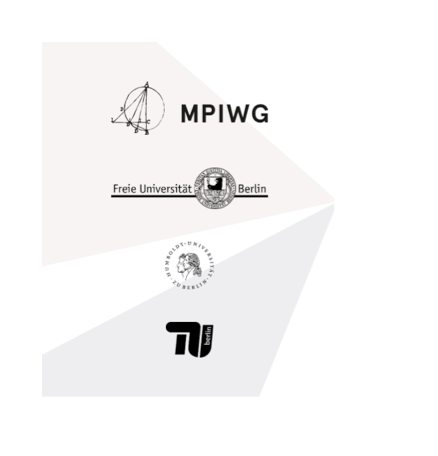 visibility of Berlin's multidisciplinary research potential in the history of knowledge. The aim of the four partner institutions is to exploit this potential through a significant expansion of activities, a considerable strengthening of institutional ties, and a long-lasting consolidation of heretofore dispersed resources in Berlin.
Along with a number of research and teaching appointments made by Berlin's universities in the history of knowledge and science, a number of new professorships at the partner universities and new positions as Research Group Director at the MPIWG have been created. Efforts to make a long-lasting impact on institutional structures are complemented by a number of initiatives to foster dialogue between pre- and postdoctoral scholars based in Berlin: for example, the "Studientag Literatur und Wissenschaftsgeschichte" in cooperation with the chair for New German Literature at the FU (Professor Jutta Müller-Tamm) and the "Berliner DoktorandInnenforum für Wissensgeschichte," which is jointly organized by all four partner institutions.
Cooperation in Teaching
Cooperation in teaching is also one of the Berlin Center's goals. Since 2010, the cooperation partners have compiled an annotated list of all courses offered at the Berlin universities in the field of the history of knowledge (printing the "Berliner Vorlesungsverzeichnis Wissenschaftsgeschichte (KVV)" each semester). The course list (in German) lists current lectures and courses relating to the history of science and the history of knowledge at the FU, HU, and TU that provide students with the relevant methodological training in the history of science.The Berliner Zentrum website provides a wide range of helpful information to researchers with a primary interest in the history of knowledge, as well as a calendar of events in Berlin.
Postdoctoral Fellows
Since August 2016, nine postdoctoral scholars have been hosted by the Berlin Center partner institutions, listed below.
Maria Avxentevskaya (MPIWG)
The Physician's Stammbuch: Humanist Cultures of Knowledge Networking
Angela Axworthy (TU Berlin)
The Status of Practical Geometry and its Relations to Theoretical and Applied Geometrical Knowledge in Sixteenth-century Treatises of Practical Geometry
Irene Calà (HU Berlin)
Bleeding for Health: Galen's Views on Phlebotomy and Their Reception in Medical Works of Late Antiquity
Minakshi Menon (TU Berlin)
Hortus Oceanus Indicus: The Calcutta Botanic Garden and the Making of the Indian Ocean Environment, 1786–1847
Anja Sattelmacher (TU Berlin)
Making Things Alive: Animation as Cultural and Epistemic Practice
Ylva Söderfeldt (MPIWG)
Knowing and Being Known: Hay Fever and the Fieldwork of Medical Knowledge 1897–1968
Dror Weil (MPIWG)
Transmission of Medical Knowledge Embedded in Islamic Texts to China, Seventeenth to Nineteenth Centuries
Adrian Young (HU Berlin)
"Going Native": Becoming the Other as a Mode of Knowledge-making in the British Imperial World