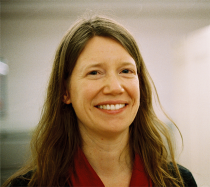 Alumni
Sietske Fransen
Research Group Leader (Mar 2019-Jun 2019)
PhD

Sietske Fransen studied biology and medieval studies at Utrecht University, before receiving her MA and PhD degrees from the Warburg Institute in London with a thesis entitled "Exchange of Knowledge Through Translation: Jan Baptista van Helmont and His Editors and Translators in the Seventeenth Century." She is currently working on the role, function, and application of visualizations in the acquisition of early modern scientific and medical knowledge.
Together with Elaine Leong and Tara Alberts she runs the Working Group "Translating Medicine in the Premodern World" and during her time at the MPIWG she will be building up her Max Planck Research Group "Visualizing Science in Media Revolutions," which will be based at the Bibliotheca Hertziana - Max Planck Institute for Art History in Rome starting in September 2019.
She has published on language and translation in seventeenth-century Europe in Isis, Literature Compass, and edited the collected volume Translating Early Modern Science. Her article on the Dutch microscopist "Antoni van Leeuwenhoek, His Images and Draughtsmen" will soon come out in Perspectives on Science. Her interest in media changes in the European medieval and early modern period has made her especially interested in the current impact of digital media and digital tools on historical research, something she will investigate in further detail in her Research Group.
Projects
No current projects were found for this scholar.
Selected Publications
Fransen, Sietske (2017). "Latin in a Time of Change: The Choice of Language as a Signifier of New Science?" Isis 108 (3): 629–635. https://doi.org/10.1086/694189.

Read More
Fransen, Sietske, Niall Hodson, and Karl Enenkel, eds. (2017). Translating Early Modern Science. Intersections 51. Leiden: Brill.

Read More
Fransen, Sietske (2017). "Anglo-Dutch Translations of Medical and Scientific Texts." Literature Compass 14 (4). https://doi.org/10.1111/lic3.12385.

Read More
Past Events
Premodern Conversations Series
Antoni van Leeuwenhoek and His Images and Draughtsmen
MORE
Workshop
Translating Medicine in the Pre-modern World: Knowledge and Practice
MORE
Medicine & Health
Natural Philosophy
Digital Humanities
Language
Media
Visual Culture