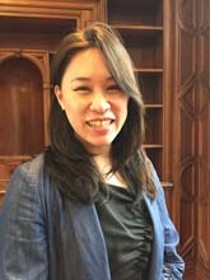 People
Lisa Onaga
Senior Research Scholar

(Sep 2017-Aug 2020)

PhD

Lisa Onaga received her PhD from Cornell University and works on the history of science and technology in Japan, with a focus on understanding how pragmatic and intellectual knowledge systems interact. This research especially considers the ownership and authorship of knowledge tied to the study and materiality of animals, agriculture, and textiles, and how people have used related enterprises to negotiate Japan's place in the world. Her forthcoming monograph, Cocoon Cultures: The Entangled History of Biology and Silk in Modern Japan examines how the pursuit of the perfect silkworm cocoon served as a key means for exploring how genes and environments interact in sexually reproducing living things, during a period of Imperial commitment to foster industrial raw silk manufacturing and trade. This sociologically informed history of sericulture and genetics has given rise to a second project dedicated to the archipelagic peripheries of Japan. Under the working title of "Biomaterial Matters," different historical interfaces among silkworms, plants, pathogens, humans, and silk are examined toward a suite of interdisciplinary histories. This work focuses on sites such as Amami Ōshima from the days of the Ryūkyū Kingdom, Taiwan during the colonial period, and other sites during the post-World War II era, in order to deepen a temporal understanding of experimental cultivation and uses of silk and their roles in constructing local, regional, or global claims to knowledge. These research interests are ultimately connected to questions about how knowledge about animals is made intelligible, for example, in terms of the histories of scientific methods used to date and describe animal-based proteins and fibers, or how animals have been rendered into resources for intellectual and societal problem-solving.
Publications
Onaga, L. 2018. Measuring the Particular: The Meanings of Low-Dose Radiation Experiments in Post-1954 Japan. positions: asia critique. 26 (2) [in press].
Onaga, L. 2017. Reconstructing the Linear No-Threshold Model in Japan: A Historical Perspective on the Technics of Evaluating Radiation Exposure. Technology and Culture. 58(1): 194-205. 
Onaga, L. 2015.  More than Metamorphosis: The Silkworm Experiments of Toyama Kametaro and his Cultivation of Genetic Thought in Japan's Sericultural Practices, 1894-1918.  In New Perspectives on the History of Life Sciences and Agriculture, edited by Denise Phillips and Sharon Kingsland, 415–37. Springer International Publishing, 2015.
 
Onaga, Lisa. 2014. Ray Wu as "Fifth Business": Deconstructing Collective Memory in the History of DNA Sequencing. Studies in History and Philosophy of Science Part C: Studies in History and Philosophy of Biological and Biomedical Sciences 46: 1-14.
 
Onaga, Lisa. 2010.  Toyama Kametaro and Vernon Kellogg: Silkworm Inheritance Experiments in Japan, Siam, and the United States, 1900-1912. Journal of the History of Biology 43: 215-264.
Projects
No projects were found for this scholar.
Material Culture
Practical Knowledge
Transnational
Globalization
Imperialism
Technology
Life Sciences
Human & Social Sciences