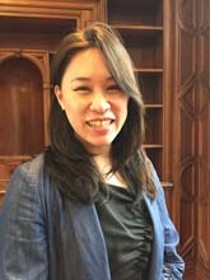 People
Lisa Onaga
Senior Research Scholar

(Sep 2017-Aug 2020)

PhD

Lisa Onaga specializes in the history of science and technology and the history of modern Japan, with a focus on the formation of the life sciences and materials science in relation to animals, agriculture, and textiles. Her first book project, Anatomy of a Hybrid: The Entangled History of Biology and Silk in Modern Japan, examines the formation of genetic and environmental knowledge linked to the improvement and mass production of raw silk, a crucial commodity for capital accumulation and industrialization in imperial Japan. Her new project, "Biomaterial Matters," offers a different take on the emblematic silk cocoon spun by the domesticated silkworm and historicizes the creation of materials science innovations with purified silk proteins as part of a comparative history of the preservation of silkworm strains and silkcraft in postwar Japan and Italy. She is also interested in how material engagements with insects have developed as resources for problem-solving, in connection to the rise of biomimetic studies in the twentieth and twenty-first centuries.
Publications
Onaga, L. 2015. More than Metamorphosis: The Silkworm Experiments of Toyama Kametaro and his Cultivation of Genetic Thought in Japan's Sericultural Practices, 1894-1918.  In New Perspectives on the History of Life Sciences and Agriculture, edited by Denise Phillips and Sharon Kingsland, 415–37. Springer International Publishing, 2015.
 
Onaga, Lisa. 2014. Ray Wu as "Fifth Business": Deconstructing Collective Memory in the History of DNA Sequencing. Studies in History and Philosophy of Science Part C: Studies in History and Philosophy of Biological and Biomedical Sciences 46: 1-14.
 
Onaga, Lisa. 2010. Toyama Kametaro and Vernon Kellogg: Silkworm Inheritance Experiments in Japan, Siam, and the United States, 1900-1912. Journal of the History of Biology 43: 215-264.
Projects
No projects were found for this scholar.