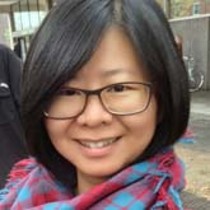 People
Shih-Pei Chen
Digital Content Curator (Since 2014)
PhD

Shih-Pei Chen received her PhD from National Taiwan University as a computer scientist with a focus on digital humanities. Her dissertation, "Information Technology for Historical Document Analysis", explores ways of analyzing digital full texts of historical documents using information technologies. After her PhD, Shih-Pei conducted her postdoctoral research at the Institute for Quantitative Social Sciences of Harvard University and managed the China Biographical Database (CBDB), a digital database that collects biographical data for figures of historical China. Shih-Pei joined MPIWG in January 2014 as the digital content curator at MPIWG where she works with historians in order to develop digital tools that can open up new methodologies of conducting historical research in the digital age. 
Selected Publications
Wang, S., Belouin, P., Ho, B., & Chen, S.-P. (2019). RISE and SHINE: A Modular and Decentralized Approach for Interoperability between Textual Collections and Digital Research Tools. In Digital Humanities Conference 2019, 9-12 July (pp. 1-4)…

Read More
Ho, B., Wang, S., Belouin, P., & Chen, S.-P. (2018). Asia Network: An API-Based Cyberinfrastructure for the Flexible Topologies of Digital Humanities Research in Sinology. In S.-L. Shaw, T.-C. Chan, & L.-J. Chen (Eds.), Pacific Neighborhood…

Read More
Wang, S., Belouin, P., Chen, S.-P., & Ho, B. (2018). Research Infrastructure for the Study of Eurasia (RISE): Towards a Flexible and Distributed Digital Infrastructure for Resource Access via Standardized Apis and Metadata. In DADH. 9th…

Read More
Presentations, Talks, & Teaching Activities
The 6th International Conference of Digital Archives and Digital Humanities 2015, Taipei, Taiwan
More
Conference "Scales of Knowledge: Zooming in and out," Heidelberg, Germany
Digital Humanities Conference 2015, University of Western Sydney, Australia
More
"Historical Method and Computerized Data Collection and Analysis"
Workshop, Chinese Local Gazetteers (地方志), MPIWG, Berlin, Germany
Association for Asian Studies Annual Conference (AAS 2015), Chicago, USA
Crossover & Transformation: The 5th International Conference of Digital Archives and Digital Humanities 2014, Taipei, Taiwan
Annual Meeting for the History of Science Society, (HSS), Chicago, USA
International Workshop on Digital Sinology and Taiwan Studies, Oriental Institute of the Czech Academy of Sciences, Prague, Czech Republic
Conference on Quantitative Approaches in the Humanities, Hanover, Germany
Digital Humanities Conference 2014, Lausanne, Switzerland