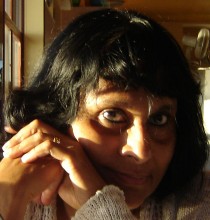 People
Minakshi Menon
Visiting Scholar

(Sep 2017-Aug 2018)

PhD

I am working on a book manuscript, which explores the natural knowledge-making strategies of British savants in eighteenth and nineteenth century colonial India. In it I argue that colonial natural history was a hybrid way of knowing that brought together different types of knowledge, European and indigenous, in the service of the English East India Company state; and that it was knowledge directed to specific contexts of use without necessarily affecting natural knowledge making in Britain.
I have also begun research on a second project on the role of the Calcutta Botanic Garden in the making of the Indian Ocean World environment. This project tests three interlinked theses: (i) that the Garden played a central role in shaping the environmental changes brought about in the IOW under British imperialism; (ii) that such changes were related to efforts to stabilize the British Empire at a moment when Caribbean sugar plantations were under threat from the revolution in Saint Domingue (1790s) and strong abolitionist sentiment at home; (iii) that botanical and agronomical research at the Garden was also simultaneously an effort to embed the Company state in its Indian milieu.
Forthcoming Publications:
Medicine, Money and the Making of the East India Company State: William Roxburgh in Madras, c. 1790, in Anna Elizabeth Winterbottom & Facil Tesfaye (eds.) Histories of Medicine in the Indian Ocean World, Palgrave MacMillan, 2015
Scottish Enlightenment Travels: Francis Buchanan in South India, in Jean-François Dunyach & Richard B. Sher (eds.) Scots and Empire in the Long Eighteenth Century: Enlightenment and Imperialism, Bucknell University Press, 2015
Projects
No projects were found for this scholar.
Presentations, Talks, & Teaching Activities