Tamar Novick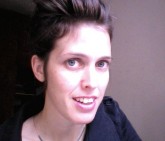 Research Scholars are early career scholars who have ordinarily already had at least one postdoctoral fellowship or equivalent academic experience. This is the equivalent of an entry-level academic position (e.g. assistant professor in North America, Lecturer in the United Kingdom, Maître de conférences in France). These scholars carry considerable responsibilities (no more than 30% of their time) within their research unit.
Residence:
September 1, 2015 to August 31, 2019
Profile
Tamar Novick received her PhD from the History and Sociology of Science Department at the University of Pennsylvania in 2014. 
Her dissertation explored the use of science and technology as means for erecting a mystical past in Palestine in the first half of the twentieth century. This project, now a manuscript entitled Milk & Honey: Technologies of Plenty in the Making of a Holy Land examined how settlers who attributed special qualities to their land, used science and technology to reconstruct a plentiful mystical past, "a land flowing with milk and honey." The study was organized around the creatures that became key actors in the making of a Holy Land: bees, cows, sheep, goats, and women, and analyzed the technologies used to produce modern plenty.
Before coming to the MPIWG, Tamar was a Postdoctoral Fellow at the Edmond J. Safra Center for Ethics at Tel Aviv University. Her current research focuses on the use of bodily waste in biomedical research, and more specifically, on the role of urine in infertility research and treatments. Other projects deal with the issue of theft in the agricultural realm, and with early twentieth-century hunting expeditions and the construction of zoological collections in the Middle East. Her fields of expertise include history of technology, environmental history, cultural studies, and Middle East studies.
Contact
Max Planck Institute for the History of Science 
Boltzmannstraße 22 
14195 Berlin 
Germany
Projects
Publications
Related Material