Sascha Freyberg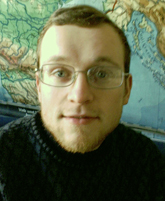 Research Scholars are early career scholars who have ordinarily already had at least one postdoctoral fellowship or equivalent academic experience. This is the equivalent of an entry-level academic position (e.g. assistant professor in North America, Lecturer in the United Kingdom, Maître de conférences in France). These scholars carry considerable responsibilities (no more than 30% of their time) within their research unit.
MA, Doctoral Student, Freie Universität Berlin
Residence:
November 6, 2017 to December 31, 2018
Profile
After studying Cultural Sciences in Hagen and Philosophy in Berlin, Sascha is finishing a Ph.D. thesis on Edgar Wind's pragmatic epistemology. He has organized workshops on Ernst Cassirer and Soviet Human Sciences at the Institute. Currently he works on the publication project "Rethinking the Political Epistemology of the Enlightenment. Dialogues with Ernst Cassirer" editing the papers of Yehuda Elkana and John Michael Krois.
Contact
Max Planck Institute for the History of Science 
Boltzmannstraße 22 
14195 Berlin 
Germany
Projects
Publications