Dror Weil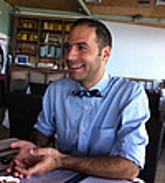 Postdoctoral Fellows are early career scholars who are ordinarily no more than five years past the granting of the doctorate and who are financed in part or in whole by the MPIWG. These scholars carry minor responsibilities (no more than 10% of their time) within their research unit.
Residence:
September 1, 2017 to August 31, 2018
Profile
Dror Weil received his PhD from Princeton University's Department of East Asian Studies in 2016. His dissertation charts late imperial China's intellectual engagement with Arabic and Persian scholarly discourses on the natural world roughly between the thirteenth and eighteenth centuries.
Before coming to the MPIWG, Dror was a Thomas Arnold post-doctoral fellow at Tel Aviv University. At the MPIWG, he is a post-doctoral fellow in Department II and a member of The Berlin Center for the History of Knowledge.
His current research project deals with the circulation of Arabic and Persian texts in late imperial China and their translations into Chinese. In particular, he is interested in examining the scope, quality, and processes of translation and domestication of knowledge in the fields of medicine, astronomy, philology, and natural philosophy.
Dror has published on the movements of Arabic and Persian texts into China, and China's domestication of Arabo-Persian knowledge during the late imperial period. His fields of expertise include the history of late imperial China, history of East Asia, history of Islam and the Islamicate world, the history of the book in Asia, translation theory, and sociology of knowledge.
He has taught courses on Asian history and languages at Taiwan's National Chengchi University, Princeton University, and Tel Aviv University.
Contact
Max Planck Institute for the History of Science 
Boltzmannstraße 22 
14195 Berlin 
Germany
Publications
Curriculum Vitae