Sascha Freyberg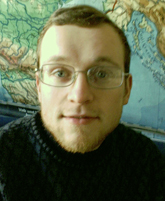 Predoctoral Fellows are candidates for a doctorate at an accredited university financed in part or in whole by the MPIWG. These scholars carry minor responsibilities (no more than 10% of their time) within their research unit.
MA, Doctoral Student, Freie Universität Berlin
Residence:
March 1, 2013 to February 28, 2017
Profile
After studying Cultural Sciences in Hagen (BA on Nihilism) and Philosophy in Berlin (MA on Cassirer) I currently work on Edgar Wind's pragmatic epistemology and the concept of nature in modern physics.
Selected publications:
Freyberg, S. (2014). Bildakt demystified: remarks on philosophical iconology and empirical aesthetics. In S. v. Marienberg (Ed.), Bildakt at the Warburg Institute (pp. 51-67). Berlin: De Gruyter.
Read more
Freyberg, S. (2014). Peirce in Germany: a long time coming. European Journal of Pragmatism and American Philosophy, 6(1), 28-33.
Read more
Freyberg, S., & Rommel, J. (2014). Review of: Herrmann-Pillath, Carsten: Foundations of economic evolution: a treatise on the natural philosophy of economics. Cheltenham: Edward Elgar Publishing 2013. Ökologisches Wirtschaften, 29(1), 53-54.
Read more
Freyberg, S. (2012). [Entries] 'Monade', 'Musik', 'Nomade', 'Struktur'. In S. Günzel (Ed.), Lexikon der Raumphilosophie. Darmstadt: Wissenschaftliche Buchgesellschaft.
Read more
Presentations
"Some Remarks on the Practice of Philosophical Commentary in the Latin Middle Ages", Zukunftsphilologie Workshop Commentary Cultures, Berlin
"Philosophy of Embodiment?", Workshop of the Collegium for the Advanced Study of Picture Act and Embodiment, Warburg Institute, London
"Ilenkov und die menschliche Individualität", International Conference Dialog in deutsch-russischer Perspektive, Berlin
"Was ist Philosophie?" Lecture series at the Obdachlosen-Uni, Berlin
"Nihilismus und symbolische Form. Nietzsche bei Cassirer", International Conference of the Nietzsche Society, Naumburg
"Der Raumbegriff bei Leibniz und Newton", Lange Nacht der Wissenschaften, Fritz Haber Villa, Berlin
"Philosophical Anthropology and the Questions of Ethics and Politics", XV. Congreso Internacional de Filosofía, UNAM (México, D. F.)
Contact
Max Planck Institute for the History of Science 
Boltzmannstraße 22 
14195 Berlin 
Germany
Projects
Publications
Related Material