Marjolijn Bol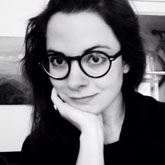 Visiting Postdoctoral Fellow
Visiting Postdoctoral Fellows are early career scholars who are ordinarily no more than five years past the granting of the doctorate and who are either externally financed or receive a Fellowship rather than a contract from the MPIWG.
PhD, Postdoctoral Researcher, University of Amsterdam
Residence:
October 1, 2016 to August 31, 2018
Profile
Marjolijn Bol's research interests focus on the interdependence of the history of art with the history of materials, techniques, and science. She gained her PhD in Art History at Utrecht University with her thesis Oil and the Translucent: Varnishing and Glazing in Practice, Recipes and Historiography, 1100-1600. Her study shows how the history of the discovery and use of the transparent properties of oil as varnish and paint medium is central to understand the roots of medieval panel painting in imitative practices and, from the fifteenth century onwards, its emancipation as "high art." While grounded in art history, Marjolijn's research interacts with historical studies of craft, technology, science, and social studies. Special to her approach is the making of historical reconstructions to investigate the appearance of materials or objects that only came down to us in writing (i.e., recipes) or that survived in poor condition.
Between 2012 and 2014 Marjolijn worked on postdoctoral research projects at the MPIWG, including Crafting Splendor and Examining Light. The Artisan's Contribution to the Study of Optics, 1100-1700, Golden Wood and Panels of Porphyry. Appraising and Examining the Art of Ersatz in Pre- and Early Modern Times, and on the DFG research project Natura-Materia-Artificio. Die Reflexion von Naturmaterialien in bildender Kunst und Kunsttheorie vom 15. bis ins frühe 18. Jahrhundert at the University of Hamburg.  In 2014 she was awarded a research grant by the Dutch Science Fund (NWO) for her project Art and Deception: Functions, Techniques and Effects of Material Mimesis. Presently, she works on this project at the University of Amsterdam (Department of Conservation & Restoration) and at the MPIWG. For the University of Amsterdam Marjolijn also develops and teaches the course Art Technological Source Research. 
Selected publications:
Bol, M. (2017). Technique and the art of immortality, 1800-1900. History of Humanities, 2(1), 179-199. doi:10.1086/690578.
Read more
Bol, M. (in preparation). Oil and the translucent: varnishing and glazing in practice, recipes and historiography, 1100-1600.
Read more
Bol, M. (2014). Coloring topaz, crystal and moonstone: gems and the imitation of art and nature, 300-1500. In M. Beretta, & M. Conforti (Eds.), Fakes!?: hoaxes, counterfeits, and deception in early modern science (pp. 108-129). Sagamore Beach: Science History Publications.
Read more
Bol, M., de Groot, H., & Wallert, A. (2014). Glass and parchment with a view: oil paint and the imitation of (stained) glass windows 1400-1600. In H. Dubois, J. H. Townsend, J. Nadolny, S. Eyb-Green, & S. Neven (Eds.), Making and transforming art: technology and interpretation (pp. 129-130). London: Archetype Publications.
Read more
Bol, M. (2014). Seeing through the paint: the dissemination of technical terminology between three métiers; Pictura translucida, enameling and glass painting. In A. Speer (Ed.), Zwischen Kunsthandwerk und Kunst: die 'Schedula diversarum artium' (pp. 145-162). Berlin: De Gruyter.
Read more
Contact
Max Planck Institute for the History of Science 
Boltzmannstraße 22 
14195 Berlin 
Germany
Projects
Publications