Wolfgang Lefèvre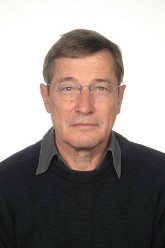 Visiting Scholars are established scholars, as evidenced by significant publications and broad academic experience, spending a fixed term as guests at the MPIWG for research purposes. They may be externally funded or receive a Research Fellowship from the MPIWG.
Dr., Außerordentlicher Professor an der Freien Universität Berlin
Residence:
since March 1, 2006
Profile
Wolfgang Lefèvre was Professor of Philosophy and Science at the Freie Universität Berlin until 2006, and is currently working at the Max Planck Institute for the History of Science. His research interests include History of Science in Connection with History of Philosophy on the Basis of Social History; Sciences in Greek Antiquity; Early Modern Physics and Chemistry; and History of Biology (fifteenth to eighteenth centuries).
Selected publications:
Lefèvre, W. (2017). Architectural knowledge. In M. Valleriani (Ed.), The structures of practical knowledge (pp. 247-269). Cham: Springer.
Read more
Lefèvre, W. (2017). Review of: Gibson, Susannah: Animal, vegetable, mineral? How eighteenth-century science disrupted the natural order. Oxford: Oxford University Press 2015. Ambix, 64, 1-2. doi:10.1080/00026980.2016.1227169.
Read more
Lefèvre, W. (2017). Review of: Renn, Jürgen, Wilhelm Osthues and Hermann Schlimme (eds): Wissensgeschichte der Architektur. 3 volumes. Berlin: Edition Open Access 2014. Construction History, 32(1), 111-113.
Read more
Lefèvre, W. (2016). "Das Ende der Naturgeschichte" neu verhandelt: Historisch genealogische oder epigenetische Neukonzeption der Natur?. Berlin: Max-Planck-Institut für Wissenschaftsgeschichte.
Read more
Lefèvre, W. (2016). Jean-Baptiste de Lamarck. In M. Hagner (Ed.), Kindler Kompakt: Klassiker der Naturwissenschaften (pp. 97-99). Stuttgart: Metzler.
Read more
Contact
Max Planck Institute for the History of Science 
Boltzmannstraße 22 
14195 Berlin 
Germany
Publications
Related Material