Christoph Rosol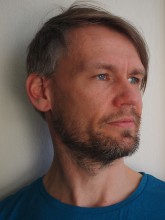 Research Scholars are early career scholars who have ordinarily already had at least one postdoctoral fellowship or equivalent academic experience. This is the equivalent of an entry-level academic position (e.g. assistant professor in North America, Lecturer in the United Kingdom, Maître de conférences in France). These scholars carry considerable responsibilities (no more than 30% of their time) within their research unit.
Residence:
February 13, 2015 to December 31, 2017
Profile
I studied history of science and media studies in Berlin and Toronto. Previously, I have been stipendiary of the German Historical Institute in Washington, D.C. in 2008 and the graduate program Media of History - History of Media (Erfurt, Weimar, Jena) from 2008 to 2011. In 2012 I became Predoctoral Fellow at the MPIWG and, later in the year, also research associate for The Anthropocene Project at Haus der Kulturen der Welt, Berlin. Currently I am part of the curatorial team of the follow-up project Technosphere.

As the MPIWG was and is a main cooperation partner for these two programs, my position in Dpt. 1 specifically focuses on the development of a transdisciplinary Anthropocene Curriculum. This work at the intersection of the natural sciences, humanities, design and arts allows me to be productively engaged with the numerous different facets of Anthropocene research while also studying it at the same time.

Meanwhile, my ongoing doctoral research deals with the (pre)history and epistemic foundations of General Circulation Models (GCMs) which are derived from numerical weather prediction techniques but have now evolved into a core component of so called Earth System Models. Based on a historiographic reframing of the objects, techniques and longue-durée ideals of rationally modeling atmospheric motion – i.e. the excessively hybrid configuration of empirical, theoretical and technological practices that stabilized an epistemic manifestation of the unrepresentable – I argue for a reconceptualization of the notions of "uncertainty" and "scientific revolution" that are common terms in the literature on this subject.

I am currently working on the analysis of climate records (specifically deep-sea sediment cores) and their operative role as data repository in constraining numerical experiments of paleoclimate reconstructions. By discussing an exemplary simulation of a possible pre-Quaternary analogue to current climatic change (the PETM) I am investigating the modes of representation, time evolution and non-linearity in modeling a climate history of the Earth.
Selected publications
Rosol, C. (2017). Data, models and Earth history in deep convolution: Paleoclimate simulations and their epistemological unrest. Berichte zur Wissenschaftsgeschichte, 40(2), 120-139. doi:10.1002/bewi.201701822.
Read more
Rosol, C. (2017). Which design for a weather predictor? Speculating on the future of electronic forecasting in post‐war America. In M. Heymann, G. Gramelsberger, & M. Mahony (Eds.), Cultures of prediction in atmospheric and climate science: epistemic and cultural shifts in computer-based modelling and simulation (pp. 68-84). London: Routledge.
Read more
Rosol, C., Nelson, S., & Renn, J. (2017). In the machine room of the Anthropocene. The Anthropocene Review, 4(1), 2-8. doi:10.1177/2053019617701165.
Read more
Rosol, C. (2015). Hauling data: Anthropocene analogues, paleoceanography and missing paradigm shifts. Historical Social Research, 40(2), 37-66.
Read more
Klingan, K., Sepahvand, A., Rosol, C., & Scherer, B. M. (Eds.). (2014). Textures of the Anthropocene: Grain Vapor Ray. Cambridge, MA [u.a.]: MIT Press [u.a.].
Read more
Rosol, C. (2010). From Radar to Reader. On the Origin of RFID. Aether. The Journal of Media Geography, 5, 37-49.
Read more
Rosol, C. (2009). Strichcode: Konsumschleusen. Arch+, Sonderheft: Schwellenatlas. Vom Abfallzerkleinerer bis Zeitmaschine(191/192), 110-115.
Read more
Rosol, C. (2008). RFID – Vom Ursprung einer (all)gegenwärtigen Kulturtechnologie. Berlin: Kadmos.
Read more
Presentations
Max Planck Institute for Meteorology, Hamburg
Stabilized instability: Introduction to a (different) history of general circulation modeling
Extremely Noisy and Incredibly Close. Reconstructing Deep-time Climate Change as a Means to Define the Present
Jahrestagung Gesellschaft für Medienwissenschaft, Leuphana Universität Lüneburg
Analoge Signale. Das Anthropozän im geohistorischen Rauschen
Sciences Po / Institute for Human Paleontology, Paris
The Anthropocene Project
Contact
Max Planck Institute for the History of Science 
Boltzmannstraße 22 
14195 Berlin 
Germany
Projects
Publications
Related Material