Klaus Thoden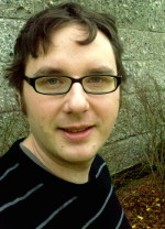 Research Scholars are early career scholars who have ordinarily already had at least one postdoctoral fellowship or equivalent academic experience. This is the equivalent of an entry-level academic position (e.g. assistant professor in North America, Lecturer in the United Kingdom, Maître de conférences in France). These scholars carry considerable responsibilities (no more than 30% of their time) within their research unit.
Residence:
January 1, 2018 to December 31, 2019
Profile
Klaus Thoden is a Research Scholar at the Max Planck Institute for the History of Science in Berlin. He received his Magister Artium (MA) in German language and linguistics from the Humboldt University, Berlin in 2008.
At the MPIWG, he has been involved in developing an infrastructure for digitizing sources for the ECHO environment and since 2012 been involved in national and international infrastructure projects (DM2E, TextGrid, DARIAH-DE). The focus of his research is the influence of computers and the internet on the way scholars perform their work. This includes usability studies, modelling research activities (e.g., TaDiRAH, Scholarly Domain Model) and most recently research on the publication process in the humanities.
Klaus is also the technical coordinator of Edition Open Access, a publishing platform for open access publications.
Selected publications
Thoden, K., Stiller, J., Bulatovic, N., Meiners, H.-L., & Boukhelifa, N. (2017). User-centered design practices in digital humanities: experiences from DARIAH and CENDARI. ABI Technik, 37(1), 2-11. doi:10.1515/abitech-2017-0002.
Read more
Bulatovic, N., Gnadt, T., Romanello, M., Stiller, J., & Thoden, K. (2016). Usability in Digital Humanities - Evaluating user interfaces, infrastructural components and the use of mobile devices during research process. In N. Fuhr, L. Kovács, T. Risse, & W. Nejdl (Eds.), Research and advanced technology for digital libraries (pp. 335-346). Cham: Springer.
Read more
Presentations
DHd 2017 – Digitale Nachhaltigkeit, Bern
Die Impactomatrix: Ein Katalog für Impactfaktoren und Erfolgskriterien für digitale Infrastrukturen in den Geisteswissenschaften (talk with Timo Gnadt & Hanna Meiners (SUB Göttingen), Juliane Stiller (HU Berlin), Dirk Wintergrün (MPIWG))
TPDL 2016 – Overcoming the Limits of Digital Archives, Hannover
Usability in Digital Humanities - Evaluating User Interfaces, Infrastructural Components and use of Mobile Devices during Research Process (talk with Natasa Bulatovic (MPDL), Timo Gnadt (SUB Göttingen), Matteo Romanello (DAI), Juliane Stiller (HU Berlin))
Incontro di studi e digital humanities, Firenze
Scelte di programmazione per saggi scientifici in rete (talk with Pierluigi Terenzi (Opera di Santa Maria del Fiore, Firenze))
DHd 2016 – Modellierung Vernetzung Visualisierung, Leipzig
Modelling the Scholarly Domain beyond Infrastructure (talk with Stefan Gradmann (KU Leuven), Kristin Dill (ÖNB), Juliane Stiller, Steffen Hennicke & Gerold Tschumpel (HU Berlin), Christian Morbidoni (Semedia), Alois Pichler (Universitetet i Bergen))
DHd 2016 – Modellierung Vernetzung Visualisierung, Leipzig
Usability in den Digital Humanities am Beispiel des Laudatio-Repositoriums (talk with Juliane Stiller & Dennis Zielke (HU Berlin))
DARIAH Workshop on Intelligent Annotations, Köln
Introduction and Presentation of SDM (talk with Gerold Tschumpel (HU Berlin))
Semantic technologies for research in the humanities and social sciences (STRiX), Göteborg
Reasoning with Reasoning: Practices of Digital Humanists (talk with Kristin Dill (ÖNB), Steffen Hennicke & Gerold Tschumpel (HU Berlin), Christian Morbidoni (Semedia), Alois Pichler (Universitetet i Bergen))
6. Arbeitstreffen – Netzwerk Internetlexikografie: Fragen der Darstellung und Gestaltung von Internetwörterbüchern
Online-Referenzwerke in wissenschaftshistorischen Texterschließungsprojekten
Everything is on the Move: The "Mamluk Empire" as a Node in (Trans-)Regional Networks, Department of Islamic Studies, Annemarie-Schimmel-Kolleg, University of Bonn
The Missing Links: Defining the Mamluk Empire as a Node, and What the Network Knows about It (talk with Kilian Schmidtner (SBB))
Philology in the Digital Age: 2011 Annual Conference and Members' Meeting of the TEI Consortium, Würzburg
Preparing a Critical Edition of an Incunabula with TEI (workshop with Guenther Goerz (Univ. of Erlangen-Nuremburg) and Josef Schneeberger (Hochschule Deggendorf))
Contact
Max Planck Institute for the History of Science 
Boltzmannstraße 22 
14195 Berlin 
Germany
Publications