Horst Kant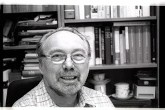 Visiting Scholars are established scholars, as evidenced by significant publications and broad academic experience, spending a fixed term as guests at the MPIWG for research purposes. They may be externally funded or receive a Research Fellowship from the MPIWG.
Residence:
June 1, 2011 to December 31, 2017
Profile
Horst Kant is a physicist and historian of science. He received his physics diploma at the Humboldt-Universität zu Berlin in 1969. In 1978, he was a scientific researcher. He founded Dieter Hoffmann in 1978 as a working group on physics history in the physical society of the GDR, which Kant headed until 1990. He worked at the Institute for Theory, History, and Organization of Sciences at Hubert Laitko in the Academy of Sciences of the GDR.

Horst Kant has been at the MPIWG since 1995. He is mainly concerned with the history of natural sciences in the nineteenth and twentieth centuries, for example with an early history of radioactivity and nuclear fission (Otto Hahn, Lise Meitner, Werner Heisenberg in the Second World War), Soviet physics history, physics history in Berlin and physical history institutions.

He is a member of the Gesellschaft für Wissenschaftschaftsforschung Berlin. Since 2014 he has been a member of the Leibniz Association of Sciences in Berlin and since 2016 deputy secretary of the class of natural sciences and engineering sciences.
Selected publications:
Kant, H. (2017). Die Entdeckung der nuklearen Energie: einige wissenschaftshistorische Betrachtungen. In Technik & Technologie techne cum episteme et commune bonum. Ehrenkolloquium anlässlich des 70. Geburtstages von Gerhard Banse (pp. 189-207). Berlin: trafo Verlag.
Read more
Kant, H. (2017). Karl Schwarzschild – Anmerkungen zu Leben und Werk. Leibniz Online, 26.
Read more
Kant, H. (2017). Werner Siemens – Erfinder, (Technik-)wissenschaftler, Unternehmer und Begründer der Elektrotechnik. Leibniz Online, 26.
Read more
Kant, H. (2016). Edward Teller. In Historische Kommission der Bayerischen Akademie der Wissenschaften (Ed.), Neue Deutsche Biographie (pp. 19-20). Berlin: Duncker & Humblot.
Read more
Kant, H. (2016). Einsteins Weg nach Berlin. Leibniz Online, 22, 1-8.
Read more
Contact
Max Planck Institute for the History of Science 
Boltzmannstraße 22 
14195 Berlin 
Germany
Projects
Publications