Jaromir Balcar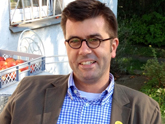 Research Scholars are early career scholars who have ordinarily already had at least one postdoctoral fellowship or equivalent academic experience. This is the equivalent of an entry-level academic position (e.g. assistant professor in North America, Lecturer in the United Kingdom, Maître de conférences in France). These scholars carry considerable responsibilities (no more than 30% of their time) within their research unit.
Residence:
October 1, 2014 to May 22, 2022
Profile
Jaromír Balcar has been part of the Research Program on the History of the Max Planck Society (GMPG) since 2014, where he works on his project entitled "Finance, Governance, Policy, and the Contacts of the Max Planck Society in the Field of Politics." He received his doctorate from LMU Munich (2002) and in 2011 received his Habilitation from the University of Bremen. He has been a Research Associate at the Institute for Contemporary History, Munich (1995–1999), LMU Munich (1999–2003 and 2005–2007) and at the University of Bremen (2003/2004 and 2008–2014).
Jaromír's wider research interests include German and Central European history, especially the history of West Germany since 1945 and Czechoslovakia (1918–1992) as well as the economic and corporate history of national socialism and state socialism.
Selected publications:
Balcar, J., & Kučera, J. (2016). System transformation as consequence of the German occupation? Czechoslovakia's path from the Nazi war economy to postwar centralized planned economy. In J. Scherner, & E. N. White (Eds.), Paying for Hitler's War: the consequences of Nazi hegemony for Europe (pp. 343-363). New York: Cambridge University Press.
Read more
Balcar, J. (2015). 'Czechization' versus 'Germanization': creating a national homogeneous economy in Czechoslovakia (1918–1945). In C. Kreutzmüller, M. Wildt, & M. Zimmermann (Eds.), National Economies: Volks-Wirtschaft, racism and economy in Europe between the wars (1918-1939/45) (pp. 239-255). Newcastle upon Tyne: Cambridge Scholars Publishing.
Read more
Balcar, J. (2015). Tschechoslowakei – zwischen NS-Besatzungsherrschaft und kommunistischer Diktatur. In Deutsches Historisches Museum München (Ed.), 1945 – Niederlage, Befreiung, Neuanfang: zwölf Länder Europas nach dem Zweiten Weltkrieg (pp. 46-59). Darmstadt: Theiss.
Read more
Balcar, J. (2014). Landwirtschaft und ländliche Lebenswelten in Westdeutschland nach 1945: Bilanz, Probleme und Perspektiven der Forschung. In U. Danker, T. Harbeke, & S. Lehmann (Eds.), Strukturwandel in der zweiten Hälfte des 20. Jahrhunderts (pp. 63-85). Neumünster [u.a.]: Wachholtz Murmann Publ.
Read more
Balcar, J. (2014). Panzer für Hitler - Traktoren für Stalin: Großunternehmen in Böhmen und Mähren 1938-1950. München: Oldenbourg.
Read more
Contact
Max Planck Institute for the History of Science 
Boltzmannstraße 22 
14195 Berlin 
Germany
Projects
Publications
Curriculum Vitae
Related Material