Helge Wendt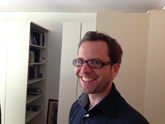 Research Scholars are early career scholars who have ordinarily already had at least one postdoctoral fellowship or equivalent academic experience. This is the equivalent of an entry-level academic position (e.g. assistant professor in North America, Lecturer in the United Kingdom, Maître de conférences in France). These scholars carry considerable responsibilities (no more than 30% of their time) within their research unit.
Residence:
May 1, 2011 to December 17, 2017
Profile
My main research interest is history of globalization. I received my PhD from the University of Mannheim in 2009 with a transnational, trans-confessional, and diachronic study on Christian colonial mission enterprises in different parts of the world in the eighteenth and nineteenth centuries. I considered, from a cultural history perspective, how missionaries conceived a social and territorial order in different colonial contexts. The role and the future of historiography of Europe in a context of globalized historiographical discourse is one important aspect of my research: in publications I continue to elaborate my ideas to reassess local and interlocal histories in a globalized world. One of my MPIWG projects is "Convivencia. From Iberian to Global Dynamics (500–1750)," where I investigate encounters between members of indigenous communities and Catholic missionaries. 
My main research project is on mineral coal and the transformation of energy systems. I study changes in knowledge, politics, economy, and society during the period between 1700 and 1920. Coal is the main agent of energy and resource transformations in the industrialization process and shaped patterns of energy provision and consumption for the past 300 years—this is why I explore how coal mining and the use of coal developed during the eighteenth and nineteenth centuries.
Selected publications
Presentations
Energy Transformations. Perspectives from the Humanities
Carbon cycles: coal, knowledge and global industrializations
Heinrich Heine Universität, Düsseldorf
Zeit für Relationen—Relationen der Zeit
Vermischung oder das Problem einer Globalgeschichte Europas
Wroclaw University, Academia Europaea, Wroclaw
Central Europe and Colonialism: Migrations, Knowledges, Perspectives, Commodities
Central European Missionaries in Sudan. Geopolitics and Alternative Colonialism in Mid-Nineteenth Century Africa
Resources and Economies of Knowledge in the Anthropocene
Why History of Resources? Approaches from a Fossil Coal Perspective
SciencesPo / IHEAL, Paris
VIII Congrès International et Interdisciplinaire: Sciences, savoirs et politique: Alexander von Humboldt et Aimé Bonpland entre Europa et Amérique Latine
Coal and coal mining in XIXth Century Latin America: Geology, Industry and Mining before and after A.v.Humboldt.
ESHS
Coal: A Global Object of Knowledge Circulation
Transfer of Knowledge in the Iberian Colonial World
Cuban Coal and the Perspective of New Energy Resources in Late Spanish Colonialism
Contact
Max Planck Institute for the History of Science 
Boltzmannstraße 22 
14195 Berlin 
Germany
Projects
Publications