Florian Kräutli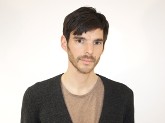 Residence:
August 8, 2016 to August 7, 2018
Profile
My research revolves around digital tools for knowledge production in the humanities. I specialize in data visualization and computational research methods in the qualitative sciences. At the Institute I am responsible for the digital research infrastructure—this includes coordinating and implementing the digital aspects of research projects. I work with all departments, research groups, and the library on digital methods for conducting research and on solutions for maintaining and disseminating digital research outputs.
Before joining the MPIWG, I worked as a digital designer and researcher. I completed a PhD at the Royal College of Art together with System Simulation, a London-based software engineering company specialized in database applications for the heritage sector. In my research I investigated how visualization facilitates knowledge discovery and enables new insights in digitized collections. This led to collaborations with a wide range of institutions across the cultural and digital landscape, such as Microsoft Research, the Courtauld Institute, and the Britten-Pears Foundation.
Outside the cultural sector, I have worked as a web developer on projects in the areas of e-learning and data analytics. I am experienced as a lecturer and have regularly taught workshops on software development, design, and data visualization. Prior to this I completed an M.Sc. in Cognitive Computing at Goldsmiths, University of London, focusing on philosophy of perception and artificial intelligence, and trained as a product designer at the Design Academy Eindhoven.
Selected publications:
Kräutli, F., & Valleriani, M. (2017). CorpusTracer: a CIDOC database for tracing knowledge networks. Digital Scholarship in the Humanities, 1-11. doi:10.1093/llc/fqx047.
Read more
Kräutli, F., & Boyd Davis, S. (2016). Digital humanities research through design. DH Early Career Conference 'Mapping the Scope and Reach of the Digital Humanities.'. London: King's College.
Read more
Boyd Davis, S., Vane, O., & Kräutli, F. (2016). Using data visualisation to tell stories about collections. In J. P. Bowen, G. Diprose, & N. Lambert (Eds.), Proceedings of EVA London. London: BCS Learning and Development Ltd.
Read more
Kräutli, F. (2016). Visualising cultural data. Thesis, Royal College of Art, London.
Read more
Kräutli, F., & Boyd Davis, S. (2015). Revealing cultural collections over time. In R. Borgo, & C. Turkay (Eds.), EG UK Computer Graphics & Visual Computing. London: The Eurographics Association.
Read more
Contact
Max Planck Institute for the History of Science 
Boltzmannstraße 22 
14195 Berlin 
Germany
Publications
Related Material