Esther Chen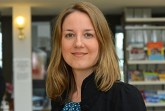 Residence:
since April 1, 2015
Profile
Esther Chen studied comparative literature and Polish language and literature at the Free University and the Humboldt University in Berlin. Parallel to her studies she worked in the Literaturhandlung zum Judentum (Bookshop for Judaica), where she was responsible for organising cultural events.
After completing her studies she taught at the Institute for Slavic Studies at the Humboldt University and participated in the project entitled "Comparisons and interconnections within European scientific cultures" at the European University Viadrina in Frankfurt an der Oder, before carrying out training for academic librarianship at the Central and Regional Library in Berlin. From 2011–2012 she worked as an academic assistant for the German parliamentary committee of enquiry into "Internet and digital society."
Before taking up her most recent post at the Max Planck Institute for the History of Science, Esther Chen worked at the Georg Eckert Institute for International Textbook Research as chief librarian from 2012–2015.
Selected publications:
Chen, E. (2016). Die Bibliothek als Verlag? Bibliotheken verorten sich (neu) als Partner im Rahmen wissenschaftlichen Publizierens. In K. Umlauf, K. U. Werner, & A. Kaufmann (Eds.), Strategien für die Bibliothek als Ort: Festschrift für Petra Hauke zum 70. Geburtstag (pp. 356-368). Berlin [u.a.]: De Gruyter. doi:10.1515/9783110481037-023.
Read more
Baum, C., & Chen, E. (2016). Peer Review-Verfahren und ihre Rahmenbedingungen. DHd: digital humanities im deutschsprachigen Raum; working papers, (3), 1-4.
Read more
Pramann, B., Drechsler, J., Chen, E., & Strötgen, R. (2016). Subject indexing of textbooks: challenges in the construction of a discovery system. In A. F. X. Wilhelm, & H. A. Kestler (Eds.), Analysis of large and complex data (pp. 621-627). Cham [u.a.]: Springer International Publishing. doi:10.1007/978-3-319-25226-1_53.
Read more
Chen, E. (2015). Gemeinsame Strategie notwendig: Podiumsdiskussion "Wissenschaftsschranke im Urheberrecht; eine Chance für Urheber, Verlage und Wissenschaft?". BuB: Forum Bibliothek und Information, 67(02-03), 84-85.
Read more
Chen, E. (2013). Wissenschaftsschranke als parteiübergreifendes Ziel: Fachsymposium "Urheberrecht für die Wissensgesellschaft". BuB: Forum Bibliothek und Information, 65(1), 6-7.
Read more
Chen, E. (2012). Bibliotheken prominent vertreten: Expertenanhörung der Enquete-Kommission "Internet und digitale Gesellschaft"; gemeinsame Ideensuche zur Gestaltung des digitalen Wandels. BuB: Forum Bibliothek und Information, 64(1), 7-8.
Read more
Chen, E., Klaes, S., Pramme, U., Schubert, S., & Strötgen, R. (2012). GEI-Digital geht in die zweite Runde: fast 2.000 historische Geschichtsschulbücher online. Eckert. Das Bulletin, 12, 47-48.
Read more
Chen, E. (2012). Linked Open VD 17 - von METS/MODS zum Europeana Data Model: Überlegungen zum technischen Migrationspfad und zum funktionalen Mehrwert semantischer Nutzungsszenarien.
Read more
Chen, E. (2012). Nun sag, wie hast du's mit der Religion..? Eckert. Das Bulletin, 11, 71-73.
Read more
Contact
Max Planck Institute for the History of Science 
Boltzmannstraße 22 
14195 Berlin 
Germany
Publications