Benjamin Steininger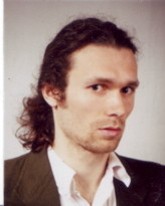 Visiting Scholars are established scholars, as evidenced by significant publications and broad academic experience, spending a fixed term as guests at the MPIWG for research purposes. They may be externally funded or receive a Research Fellowship from the MPIWG.
Residence:
May 1, 2018 to December 31, 2018
Profile
Benjamin Steininger is a cultural and media theorist, historian of science and technology, and curator. He wrote a book on the history of the German motorway system and a dissertation on the industrial history of catalysis in the 20th century. In 2016/2017 he is teaching at the University of Linz (AT) and at the Leuphana University Lüneburg (DE).
His main research fields are the cultural history of energy and acceleration, and the industrial history and theory of the materials of modernity and of the so called anthropocene: fuels and refined fossil raw materials, building materials (full list of publications: see external link).
At the HU Berlin he studied cultural sciences, media theory and philosophy (supervisor of his master thesis: Prof. Friedrich Kittler). At the University of Vienna he finished his doctorate in history and philosophy of science (supervisor: Prof. Claus Pias). He held scholarships at the Deutsches Museum Munich (2006), the Max Planck Institute for the History of Science in Berlin (2006/2007), University of Vienna (2007-2009), IFK International Research Center for Cultural Studies (2009/2010), the Center for Literary and Cultural Research Berlin (2010/2011), University of Applied Arts in Vienna (2013/2014). He was also involved in the Anthropocene Project at the HKW (Haus der Kulturen der Welt), Berlin.
From 2012 to 2016 he was directing a digital collection and exhibition project on the subject of 100 years of the oil industry in Austria (www.rohstoff-geschichte.at, cooperation partners: The Geological Survey of Austria (GBA), OMV AG, RAG, Vienna Technical Museum, University of Vienna, TU Vienna). As a curator, he is working in several contexts on a retrospect on the age of fossil industry and culture.
Benjamin's current work at the MPIWG deals with the industrial history of energy transformations and in particular with the technicality of chemical energy storage. He was curating and coordinating the colaborative symposium 'Energy Transformations. Perspectives from the Humanities' (17.-18.1.2017) held by MPIWG and MPI for Chemical Energy Conversion at the Harnack Haus of the MPG. He is also a member of the Anthropocene Working Group in Departement 1.
Presentations
Berlin, Harnack Haus, Symposium 'Energy Transformations. Perspectives of the Humanities'
Fossil or Industrial? Natural or Artificial? Remarks on Motor Fuels in the 20th Century
Linz, Kunstuniversität Linz, Johannes Kepler Universität Linz
Kulturwissenschaft als Industrietheorie. Anmerkungen zum homo sapiens catalytico-cyberneticus
Berlin, Museum für Naturkunde
Modern Fossils: Industrial Drill Cores, at: Knowing Things. Circulations and Transitions of Objects in Natural History
Gummersbach, Theodor Heuss Akademie
Katalysator – Industrie und Freiheit bei Alwin Mittasch (1869 – 1953), at: Aller guten Dinge sind frei? Freiheit und Unbehagen in der technisierten Welt
Materiale Minerale Medien
Short Term Economies, Deep Time Epistemologies – Narratives of a Drill Core, at: Black Market for Useful Knowledge and Non-Knowledge N. 18,
Katalytische Oberflächen. Chemische Prozesslandschaften aus Mikro-, Makro- und Medienperspektive, at: Hautlichkeit. Gestalterische und wissenschaftliche Praktiken zur Oberfläche.
Berlin, Haus der Kulturen der Welt
Age of the Catalyst, at: The Anthropocene Project | A Report, A Matter Theater
Zürich, Zentrum Geschichte des Wissens
Pipeline - Oder: ein geohistorischer Kurzschluss! at: Stoffe in Bewegung. Eine historische Epistemologie der materiellen Welt
Wien, Hochschule für Angewandte Kunst
Catalysis - On the Cultural History of a Material Principle, at: Jour fixe - Discussing Methods and Materials
Köln, Kunsthochschule für Medien
Pipeline und Katalyse – Zwei Medien der fossilen Moderne, at: Energy-Informations Moving away from Peak Knowledge
Berlin, Haus der Kulturen der Welt
Drill Cores, Witnesses of Fossile Present. at: Anthropocene-Workshop
Berlin, Zentrum für Literatur- und Kulturforschung
Noosphäre: Medientheorie Very Long Range, together with Peter Berz at: Synergie. Konzepte – Techniken – Perspektiven Internationaler Workshop
Lugano, Facoltà di Scienze della Comunicazion, Università della Svizzera Italiana
Zur Inszenierung Deutschlands auf der Autobahn
Polychrone Stoffe als Medien der Referenz, together with Christina Wessely at: Narrative der Referenz, 4./5.6. Freudental bei Konstanz
Zürich, Historisches Seminar der Universität Zürich
Zeitspeicher – Zur Technizität des Historischen, together with Christina Wessely
Teaching activities
Linz, Johannes Kepler University
Themen und Theorien der Kulturwissenschaften
Lüneburg, Leuphana University
Rohstoffe, Stoffströme, Stoffwechsel im Anthropozän
Contact
Max Planck Institute for the History of Science 
Boltzmannstraße 22 
14195 Berlin 
Germany
Projects
Publications