Anna Jerratsch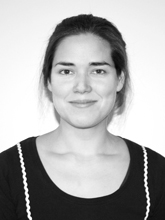 Predoctoral Fellows are candidates for a doctorate at an accredited university financed in part or in whole by the MPIWG. These scholars carry minor responsibilities (no more than 10% of their time) within their research unit.
MA, Doctoral Student, Humboldt Universität zu Berlin
Residence:
January 1, 2016 to March 31, 2017
Profile
I studied History of Science, Modern History and Sociology in Berlin and Warwick, graduating in 2009. My main research interest is on the History of Astronomy and the Popularization of Knowledge in the period of early Modernity. The special focus therereby lies on the relations between Science and Religion and what role these interconnections play in the diffusion and transformation of knowledge. My MA thesis dealt with the History of Cosmology in the eighteenth century, focussing on the works of Thomas Wright of Durham and Johann Heinrich Lambert and their explanation of the Milky Way. As a Doctoral Researcher, I now investigate cometary pamphlets and the way they present, create, and diffuse natural philosophic knowledge. For further details please see the description of my project.
Selected publications:
Omodeo, P. D., & Jerratsch, A. (2015). Mathematics, cosmology and natural philosophy: Christoph Rothmann's place in the Renaissance debate on comets. Galilaeana, 12, 203-215.
Read more
Holterhoff, A. (2009). Naturwissenschaft versus Religion? Zum Verhältnis von Theologie und Kosmologie im 18. Jahrhundert (TOPOI – Towards a Historical Epistemology of Space). Berlin: Max-Planck-Institut für Wissenschaftsgeschichte.
Read more
Contact
Max Planck Institute for the History of Science 
Boltzmannstraße 22 
14195 Berlin 
Germany
Projects
Publications